We Specialize in ceramic coating Applications
SEA-SHIELD @ Specialized in exterior yacht detailing and surface restoration.
Gelocat Cut-Polish-Protection
SEA-SHIELD @ Specialize in the restoration and protection of Gelocat finishes. Gelcoat thicker and harder than paint, and there are many ways to remove oxidation from Gelcoat finishes and bring back the original shine. Properly maintaining your Gelcoat finish is one of the most important aspects of yacht maintenance. We work with and sell only the highest quality, most durable and environmentally friendly compounds, polishes and nanotechnology coatings available
Glass Window Deep Cleaning
SEA-SHIELD @ provides glass polishing and protection on most glass surfaces. We specialize in water spot and scratch removal. SEA-SHIELD restores glass to "like new" condition by using special techniques and tools to remove hairline scratches and swirls caused by faulty prior cleaning methods. We believe that a well-protected glass surface should be crystal clear and free of contamination. We provide a unique window coating made from nanotechnology ceramic coating.
Paint Restoration and Newer Paint Maintenance.
Special care is required to restore and protect yacht paint (Awlgrip, Alexseal, Alwcraft). SEA-SHIELD @ understands the care needed to keep your yacht protected from the harsh environment that surrounds it every day. Repainting is expensive. By industries and by using improved techniques and newly developed micro polish and nano poly-coatings, we are determined to stretch the useful life of the yacht paint.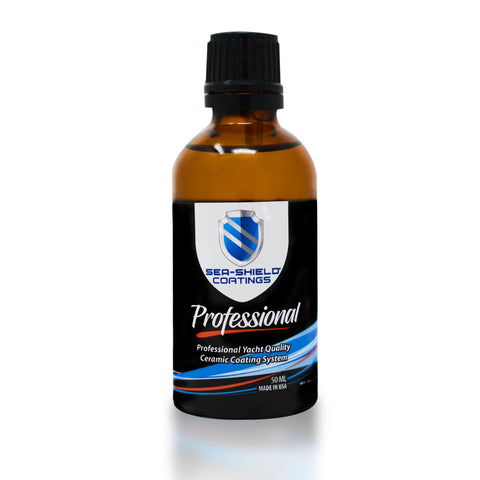 Sea-Shield® Ceramic Coating Professional is a professional, yacht-quality marine clear coat that can be applied to a variety of surfaces. Specifically design for professionals looking to have the best protection.  The application area should be well-ventilated with good lighting. If necessary, prep and polish the surface before applying the Professional Ceramic Coating.  
WHY TO CHOOSE SEA SHIELD?
Follow Us @sea-shield
Yacht Detailing Products | Boat & Yacht Cleaning Supplies | Sea-Shield